The manufacturing industry has embraced additive manufacturing to produce prototypes, and limited production runs, and now are at the tipping point of mass manufacturing. One of 3D printing's greatest strengths is often overlooked, though, and that is scalability.
Additive manufacturing is set to be a disruptive force in the manufacturing sector and render the old-school factory redundant. Its scalability nature can help small companies grow from a single machine to a hanger full of 3D printers, or outsource 3D prints online from a service provider.
Take for example Jeremy Simon, the founder of 3D Universe, who started out with just one printer and within three years was turning over $3 million a year.


Grow at Your Own Speed
Rapid growth kills businesses at an alarming rate and the best solution for growth is a solid technology base solution that can expand as required without major investment in tooling, shipping and storage. 3D printing can help you adopt lean manufacturing principles in your design and manufacturing processes and keep your sunk costs to a minimum.
You can even order 3D prints online from a 3D printing service. So fledgling business could start with no equipment or premises before committing to additive printing. Larger firms looking to dip a toe in the water of the AM market can experiment by first outsourcing so that when they reach the investment stage and set up in-house additive manufacturing they know which equipment and software works for them.


Boost Your Business With Technology
Technology can disrupt entire industries.
In 1913 Henry Ford introduced the first moving production line in the automotive industry, slashed the cost of production in the process and created a legend with the Model T. Now, more than 100 years later, the fourth industrial revolution, with additive manufacturing as a core element, is set to have the same dramatic impact. You can grow your business and market share by integrating additive manufacturing into your manufacturing processes.
Great strides in the plastic and metal 3D printing and advancements in the print speed and in the complexity of the parts printed show that we've come a long way from basic polymer wrenches. Scalability goes well beyond one business and a 3D printer set-up can now manage everything from phone cases through to metal components for your car. Now car interiors, shoes and even pancakes are produced with a 3D printers on a commercial scale. BMW had produced more than 1 million 3D printed parts by November 2018 and continues to ramp up production.
The 3D Systems Figure 4 platform is up to 50 times faster than current systems and has a much lower energy consumption, which are the final hurdles for mass production. These printers can be lined up with 16 or more in a bank and they are aimed at everything from a dentist to the aerospace industry.
More advances are on the horizon, including cheaper and more efficient Selective Laser Sintering (SLS) machines for metal production and resin printers that use light to harden the resin rather than a layer-by-layer approach.
3D printing software has also come on in leaps and bounds. Standardizing the 3D CAD/ CAM tools and processes for additive manufacturing have helped to clean up the confusing mess of disconnected software applications, to form a coherent digital thread. For example, Siemens NX software integrated into one software solution all the AM processes, including design, outputting to a variety of printers and even post-processing and print validation.
Early adopters of disruptive technologies will have the advantage of reduced costs, increased speed to market and flexibility with their design process.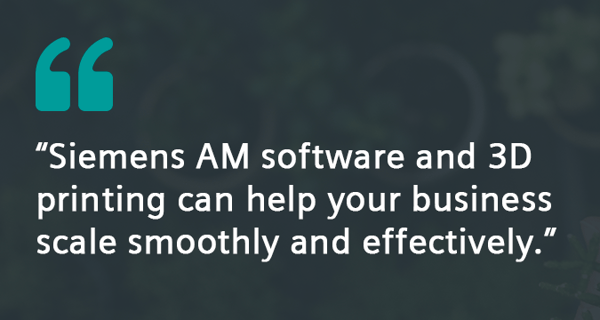 Improved Supply Chain Visibility
3D printers produce one part at a time and you don't have to produce in batches . Not only does this help you reduce storage costs and shipping if you need to outsource large orders, it also improves your supply chain visibility.
Parts don't have to be manufactured off-site and shipped, or even stored. Just in time manufacturing used to be a pipe dream, but 3D printing makes that a reality.
If all the parts are created under one roof, the supply chain visibility is improved as you can keep a closer track on your production schedule. You can also produce parts on the fly to get production back on track when required.


Reduced Time to Delivery
You can slash the time from the order to delivery of a product with an effective additive manufacturing plan. By reducing long tooling times from the production process and you can cut delivery time and further optimize your lean manufacturing processes.
Some companies have integrated 3D printing into their traditional manufacturing processes. These companies slashed the cost and time of producing tooling by using 3D printers to create injection molds and other tools .
Learn how Siemens AM software and 3D printing can help your business scale smoothly and effectively on the website here.