Additive manufacturing has been changing the world of manufacturing. Yet, we have barely scratched the surface of its potential. While many industrial manufacturers have already identified inspiring applications for additive manufacturing, the process of finding the application, redesigning the part to fit to AM, optimizing the production process and managing their suppliers is lengthy and costly. Choosing the right tools and software packages could accelerate this learning curve, and be the difference between success and failure.
Additive manufacturing is much more complex than simply installing a printer and loading up a 3D model. Home 3D printer users are well familiar with the frustration of a failed print and the associated waste of time and money. On a commercial scale, regular failures could be a financial disaster. Organizations may find it to be more cost-effective to outsource production to a 3D printing service provider rather than to try to fix the problems themselves.
The right software packages, with well-trained professionals at the helm, can optimize your AM designs while cutting failure rates,minimizing the amount of support structures required, and ensuring that finished prints are consistent and produced on schedule. This is one of the big growth areas in the additive manufacturing space right now, but it's a jungle out there.


Simulate Before You Print
The first tasks of many AM projects, is to identify the right application for AM and redesign accordingly. There are software packages that optimize the parts geometry so that the end-part fulfills the design intent while minimizing the amount of material used and support needed.
In metal AM machines, the gas flow, laser beam power, and material quality have a significant impact on the finished 3D parts. Manufacturers of parts used in the aerospace, automotive and medical implant sectors must guarantee the quality of their products. In these industries, 'good enough' isn't really an option. That means there is still a surprising amount of trial and error that goes into functional prototyping, or even a finished part.
To resolve some of these wasteful processes, a new type of simulation software arose. These software solutions can analyze the microstructure properties, and the inherent risk of distorted and fractured parts, even before the print process begins. Now manufacturers can shift from a 'print and see' approach to successful prints the first time'. As AM technology develops we expect to see artificial intelligence playing a major role in such solutions.


Eliminate Errors With an End-to-End Solution
Simple discrepancies between programs and human errors along the way can compound into serious problems. In addition, switching between software solutions creates bottlenecks in the production process. So, increasingly large companies are moving to end-to-end solutions to eliminate errors, waste and duplication of effort.
Siemens' NX AM software covers the entire AM design and manufacturing process: from the design stage, via print preparation and simulation of the process to post print validation. Industry leading partners, such as HP and EOS, not only help to improve the print preparation according to the machine specific capabilities, but also indicate that the end-to-end approach is supported by the AM industry.


Keep Track of Your Projects and Your IP
You have to do more than simply print if you're running a AM production business. You need to keep an eye on your workflow. Spreadsheets might work well with old-school manufacturing. But they aren't sufficient when it comes to the fast pace of additive manufacturing production.
Many AM suppliers use several software solutions to manage their production projects. Having the right workflow software, tailored to the 3D printing process, will optimize your production schedule. Otherwise it will be a struggle to track projects or synchronize production of parts from different orders.

IP protection is another issue when designers send files for printing. The file can be intercepted, copied and even altered. That opens the door to compromising mission-critical parts or industrial espionage.
Top-tier software packages combat that risk by offering options to limit the number of prints from a single file, as well as managing complex workflows. This level of security provides companies, such as a few automotive manufacturers, the confidence to invest in 'virtual inventories'.
Using virtual inventories, companies can replace the investment of physical inventory with digital instructions of how to produce the part only when there is a demand for it, while ensuring the production quality and protection of their IP. This presents a massive saving for companies that currently have millions of parts stockpiled around the world.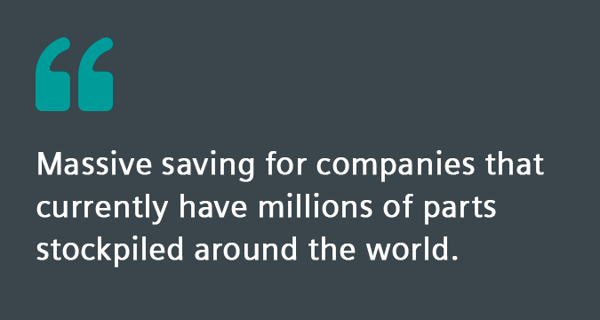 Engage With Customers
The right AM software packages could help you involve your customers at every stage of the design to production process. Such packages served on the cloud can even offer the opportunity to take part in shaping the product design in real time, with your customers, enabling them to monitor their project using integrated workflow management tools. That gives the customer greater confidence in the AM production process, cutting out unnecessary communication and ensuring that full engagement at every stage.
In the journey to realize AM's full potential, don't pick AM software lightly. The right software package can revolutionize the 3D printing processes and boost profits and productivity.
Learn how Siemens Additive Manufacturing Platform can revolutionize production processes on our website, or contact us to discuss specific requirements with our expert advisors.